On 7 March 2003 a CIA Gulfstream Jet landed at a remote airstrip in north-eastern Poland. Human rights officials and campaigners are convinced that Khalid Sheikh Mohammed, one of the most senior al-Qaeda suspects, was on board.
American agents took him to a secret facility where, he says, he was tortured before being eventually transferred to Guantanamo Bay.
The secret transfer of CIA prisoners is said to have taken place in both Poland and Lithuania – a region where,
only a generation ago, people were subject to arbitrary detention and torture at the hands of Communist secret police. Now, seven years on, the full story of Poland's secret detention site is emerging.
Dick Marty, the Council of Europe's former Rapporteur on Torture, told the BBC: "If I use the judicial standard of proof – and I used to be a magistrate – then I say 'Yes, Mohammed was in Poland. Yes, he was tortured.'  Thomas Hammarberg, the Council of Europe's Commissioner on Human Rights, said he now believed detainees had been subjected to "intense torture" and called for prosecutions. 
In the aftermath of 9/11, Khalid Sheikh Mohammed was one of America's most wanted, accused of masterminding the attacks on New York and Washington. He was finally seized in Pakistan in March 2003 and flown around the world.
The CIA's Inspector General, the internal watchdog, has said he was subjected to "183 applications of the waterboard" in a single month, one of the so-called "enhanced interrogation techniques" then used by the CIA.
At the heart of the counter-terrorism programme launched in the wake of 9/11, believed to be codenamed Greystone, was a decision to use secret detention sites to hold what it termed "high-value detainees". Dick Marty's reports have described them as a "global spider's web" of clandestine sites, linked by secret rendition flights.
There are logs which confirm that executive jets leased by the CIA landed at the isolated Szymany airstrip in north-east Poland between December 2002 and September 2003. "We were given information about the flights from the central command of the Border Guards," Mariola Przewlocka, who was then the airport's facilities manager said.
"They asked for as few airport staff as possible to be there at the time of landing. There were high-ranking officers present during the departure of the planes and there were never any customs officers."
In an interview with the International Committee of the Red Cross, Khalid Sheikh Mohammed laid out his evidence for believing he was taken to Poland: Khalid said he was driven a short distance from the airfield to the place where he was detained. He said there was snow on the ground, people were speaking an Eastern European language and he was offered a bottle of water with a Polish e-mail address on its label.
According to Mariola Przewlocka, the planes would always be met by vehicles with licence plates linked to Stare Kiejkuty, a nearby intelligence training base. We found the base after a drive through the local woods. Cameras were placed on all corners and razor wire enclosed a large area by the shores of a lake.
A United Nations report, published in February 2010, alleges that eight terrorist suspects were held at Stare Kiejkuty. All of them were "high-value detainees" whom the CIA believed had information about future terrorist operations.
Legal experts replied in May in a 50-page report that the prisons were unlawful, according to both international law and the Polish constitution. The US regulations that allow for waterboarding were also against international law, the experts added.
Prosecutors have been investigating allegations about the secret prisons since 2008, but have not released their findings. According to Wyborcza, Poland and the US agreed that the US would not reply to a Polish request for assistance in the case. This would prolong the investigation until the case could be suspended, the daily reported, citing a source in the prosecutor's office.
Prosecutors representing Saudi national Adb al-Rahim al-Nashiri, accused in the bombing of the USS Cole in
2000, claim the man was tortured at the facility between 2002 to 2003. Al-Nashiri was subjected to waterboarding and mock executions with a power drill while he was naked and hooded, the prosecutors said.
He is now being held at Guantánamo Bay where he has been ordered to face the death penalty before a military commission. Abd al-Rahim al-Nashiri faces charges alleging he oversaw the planning of the October 2000 attack, which killed 17 sailors and wounded 40 others. Nashiri has claimed he confessed to the Cole bombing after undergoing repeated torture while in U.S. custody at Stare Kiejkuty in Poland where he was waterboarded dozens of times.
Khalid Sheik Muhammad also told the International Committee of the Red Cross that on the worst day of his interrogation, at Stare Kiejkuty, his head was "banged against the wall so hard that it started to bleed. Finally I was taken for a session of water boarding. The torture on that day was finally stopped by the intervention of the doctor," he said.
Speaking last year at the American Enterprise Institute, the former Vice-President Dick Cheney defended the way the suspect was handled. "American personnel were not there to commence an elaborate legal proceeding, but to extract information from him before al-Qaeda could strike again and kill more of our people." However, according to the CIA Inspector General's own findings, things went wrong.
Siting the incidents with Abd Al-Rahim Al-Nashiri, accused of leading the 2000 attack on the USS Cole, the watchdog found that an interrogator cocked an unloaded handgun against Al-Nashiri's head. He added that another agent probably used a power drill to frighten the naked and hooded detainee on the same day. Al-Nashiri's lawyers have demanded that Poland investigates.
From a drab block on the edge of the city, the Warsaw Prosecutor's office has spent two years "investigating" the allegations. They're saying little about what they have learned – other than their work has months to go. But it isn't just Poland facing accusations. Soon after the CIA stopped using Stare Kiejkuty, planes began arriving in neighbouring Lithuania.
"I was approached by the head of the State Security Department in the summer of 2003," Rolandas Paksas, Lithuania's president at the time, told the BBC. "He asked for my permission to allow our foreign partner to bring people in secret to Lithuania and hold them here." Mr Paksas says he refused. Soon afterwards, he was impeached on corruption charges.
.
The new President was Valdas Adamkus, also an American citizen who had a 29-year-long career as an
American civil servant, last working as a senior official in the Environmental Protection Agency. A 
Lithuanian parliamentary inquiry
 found that following Paksas' refusal and removal from office, a detention facility was built that was equipped to hold detainees.
.
This was after the country had joined the European Union. Despite the fact that, as an EU member, Lithuania had ratified the Convention Against Torture and the European Human Rights Convention. Waterboarding and other practices associated with the operation of the CIA black sites would be criminal acts under Lithuanian law.
That facility can be found nestled in the woods on the outskirts of Vilnius, close to some run-down apartments. It is now used as an intelligence training base. Local people have told the BBC that they saw American contractors take over the former horse-riding stables.
The parliamentary inquiry went on to confirm that CIA planes had landed in Lithuania – but it said there was no evidence detainees had ever been taken to the facility. Arvydas Anusauskas, chairman of the parliamentary inquiry, said: "Two or three people at the State Security Department (SSD) hid information and misused their power. They allowed this to happen on Lithuanian territory without telling our political leaders. This is a very serious matter."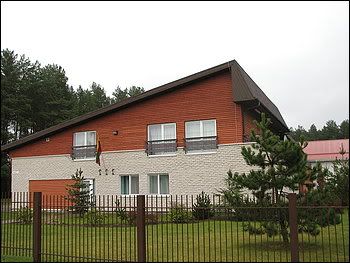 Just as in Poland, a prosecutor in Vilnius is investigating. Earlier this month, lawyers for another Guantanmo Bay detainee, Abu Zubaydah, claimed their client had been held in the country. But Avydas Pocius, the former director-general of the SSD, says it was "impossible" that the CIA had moved prisoners through the country.
"It's impossible that these flights were used to take passengers," he told the BBC. "Customs officers had full rights of access to the aircraft. But sometimes colleagues did ask us to help them to deliver diplomatic post. They wanted us to help them get to the airport faster." While Mr Pocius told the BBC that political leaders were aware of the secret facility. Henrikas Mickevicius, of Lithuania's Human Rights Monitoring Institute, says the country needs answers.
"I feel betrayed," he said. "We fought hard for what we achieved 20 years ago – freedom, democracy, the rule of law and protection of human rights. We paid a high price for this and then we sold it cheaply." In a statement to the BBC the CIA said "The programme is over. This agency does not discuss publicly where detention facilities may or may not have been."
Human rights and International Law groups insist that Lithuania must immediately reinstate the criminal investigation into its involvement in the US-led rendition and secret detention programmes.
Unlock the Truth in Lithuania: Investigate Secret Prisons Now documents and developments since the authorities admitted that Lithuania hosted two secret CIA detention facilities between 2002 and 2006. It also provides information on Lithuanian involvement in rendition operations and suggests new critical lines of inquiry that must be pursued, including allegations that Abu Zubaydah, currently detained at Guantanamo Bay, had been held in a CIA black site in Lithuania.
The organization is also calling for Lithuania to investigate links to Poland and Romania, where other secret CIA prisons are alleged to have been established. Citing the need to protect state secrets, the Lithuanian Prosecutor General closed the criminal investigation into secret CIA detention sites on Lithuanian territory in January 2011 without making any information regarding the investigation public.
"The Lithuanian authorities should not hide behind the blanket claim of 'state secrecy' to prevent allegations of disappearance and torture from being properly investigated. No one has been held accountable for helping the USA to construct these secret sites or for any violations that may have occurred in them," said Julia Hall, Amnesty International's expert on counterterrorism and human rights in Europe.
"The Lithuanian authorities must reopen their investigation into these operations, including the activities of US officials, and hold accountable those responsible for complicity in all abuses that have taken place."
Lithuania was the first country in Europe to openly admit that it hosted two secret prisons and that officials collaborated with US intelligence agencies, following a parliamentary inquiry in December 2009. As part of the US-led programmes, from late 2001 until 2006, a number of individuals were illegally detained and transferred to secret facilities in third countries where many of them were beaten, deprived of sleep and food and otherwise ill-treated. Some so-called "high value" detainees were subjected to waterboarding (mock drowning).
"Governments ignored their international obligations, state officials broke the law. As a result people suffered – suspects were snatched from the streets of towns and villages and were tortured with impunity, while their families were left clueless about their fate," said Julia Hall.
In face of the refusal so far by the Prosecutor General to re-open the investigation, non-governmental organizations are finding ways to seek additional information from a range of Lithuanian government agencies and other sources regarding state officials' and agencies' cooperation with the CIA between 2002 and 2006.
Non-governmental organizations such as Amnesty International, the Vilnius-based Human Rights Monitoring Institute, and the London-based Reprieve and Interights have uncovered new data about rendition flights and related links between landings in Lithuania and other European countries.
Julia Hall comments that: "While the Lithuanian government stands alone as having publicly acknowledged that it permitted the CIA to establish secret prisons on its territory, it remains solidly in the pack of European states that have failed miserably at investigating – and holding any state official accountable for – the human rights violations that are known to have occurred in such sites,"
Amnesty International challenges the Lithuanian authorities to investigate, in particular:
The allegations that Abu Zubaydah had been held in Lithuania, including a February 2005 flight from Morocco to Vilnius uncovered by London-based NGO Reprieve.
Aircraft landings in Lithuania in September 2004 and July 2005 which may have been part of the US-led rendition and secret detention programmes.
Links between aircraft landings in Lithuania and a number of other European countries, including Poland.
Julia Hall said: "There is enough information in the public domain to make it imperative for the criminal investigation to be re-opened. The Lithuanian authorities hold the key to unlocking the whole truth about their country's role in the rendition and secret detention programmes,"